Made in St. Louis: He imbues his photography with messages | Lifestyles
[ad_1]


By Pat Eby Special to the Post-Dispatch

How did self-taught photographer Willie James Gates show that he lives in St. Louis without saying it? For an exhibit called 'You In the Lou' at Stone Soup Gallery he photographed the iconic Eat Rite Diner near Soulard. The image spoke volumes, often clearly, sometimes muted.
"Eat Rite is already a landmark. On the side, you've got the St. Louis Blues, in the background the Cardinals' stadium, and the Arch. I named it 'Bill Russell Rings.' Now, Russell is not from St. Louis, but he had 11 title rings, the most in the NBA, and the St. Louis Cardinals? They have 11 World Series Championship rings. I like to give people something to think about with my work," he says. And he does, on many levels.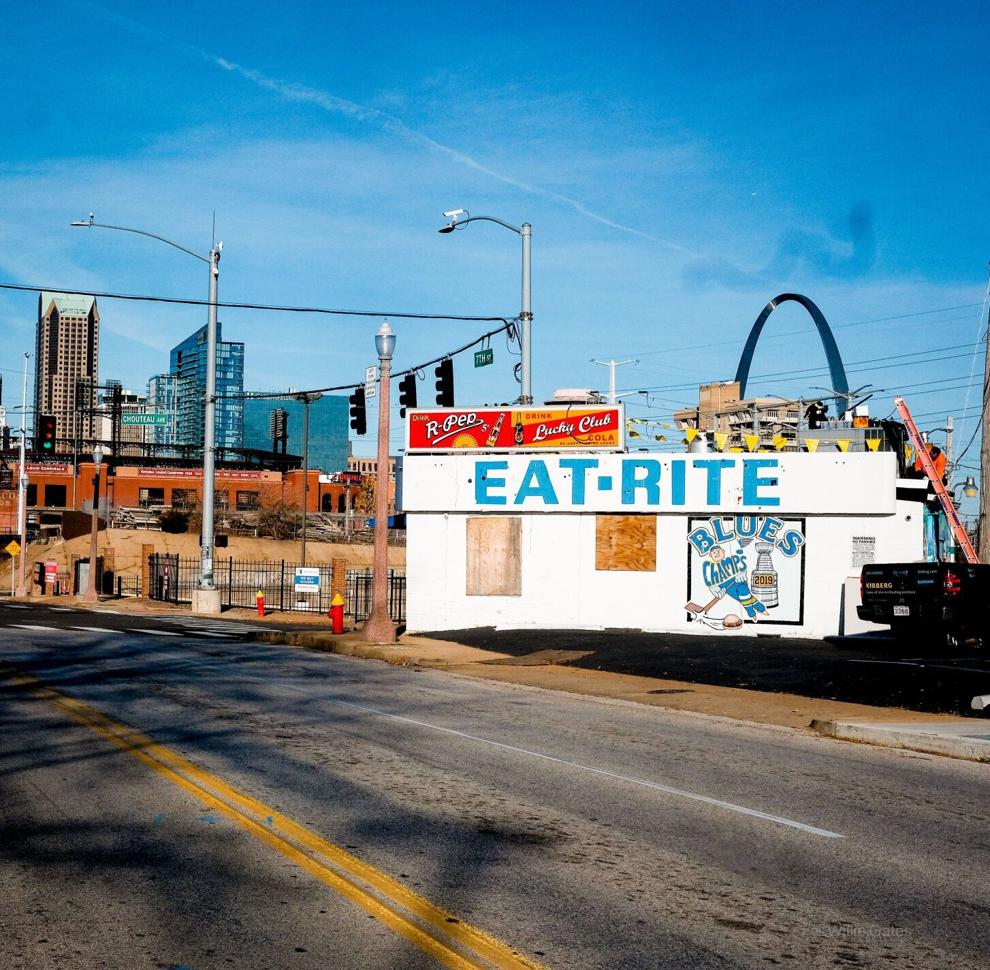 Thinking and doing • "I've always loved cameras, going back to middle school," he says, "so I bought an Olympia 500 DSLR about seven years ago and found out I didn't know how to use it. In 2018 I got a GoPro X to do videos for friends in the music and modeling businesses. Then I bought a Fuji xt20 that I could use right away and started posting my work on Instagram. I fell in love with photography. Now I use both the Olympia and the Fuji," he says.
Everything Gates shoots is digital, but his prints have the look of vintage photos. "I like that old black-and-white and color film look, so I edit some of the images to purposely make them look old, adding grain and adjusting color," he says.
Past and present • Gates was raised in East St. Louis until he was in the fourth grade. His sympathetic photos of his hometown, made with intent, often feature the city and its inhabitants. "What I try to do is to depict the underworld; to show the poverty in my pictures. If you see somebody homeless on the street, you might walk past, or step over them without seeing them," he says. "I put that in front of people — the decayed housing, the rundown playgrounds you might not see."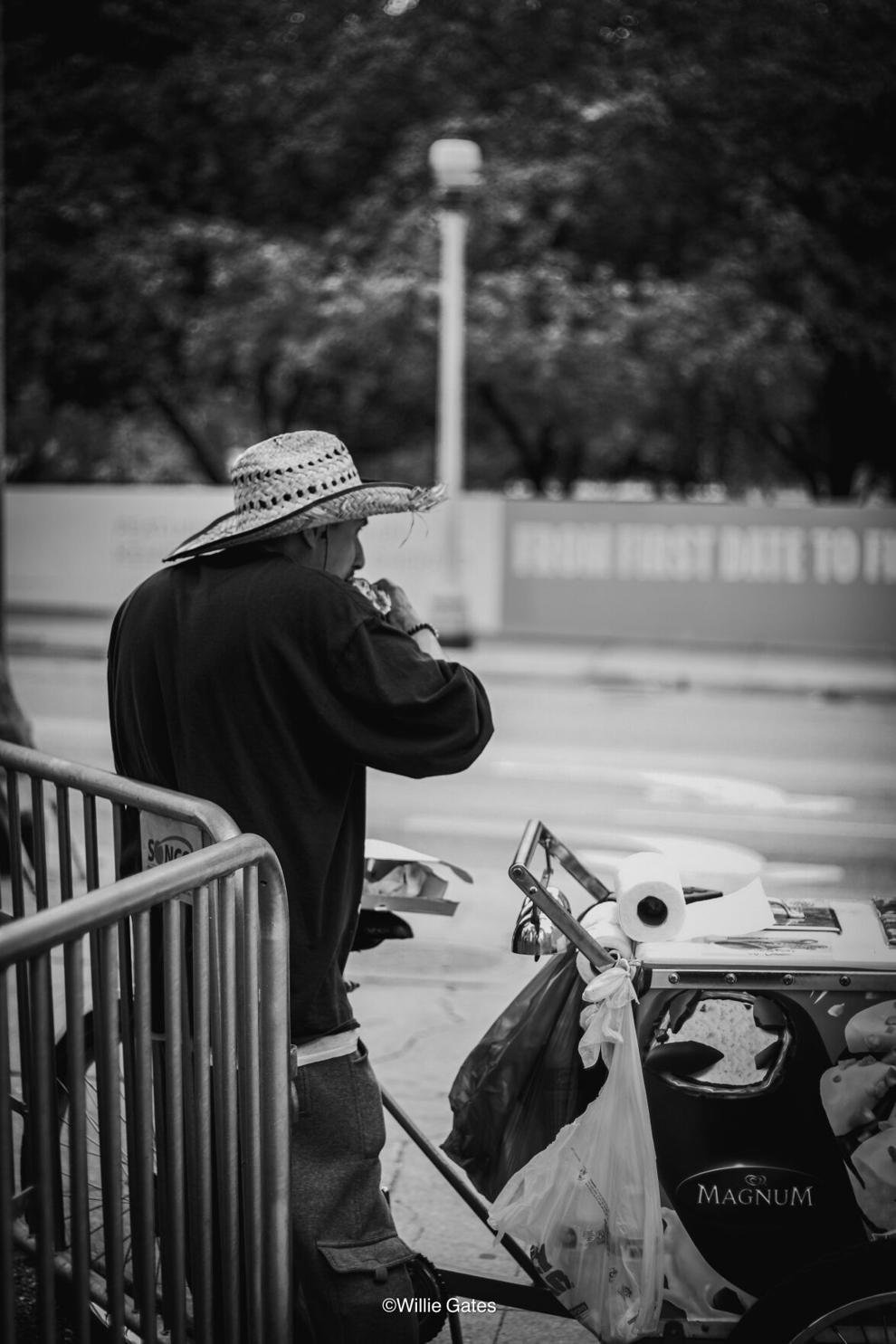 When his family moved to north St. Louis, the young Gates was bused to school in the Rockwood School District. "Coming from East St. Louis, then north city, and going to Rockwood, I'll tell you right now I was in a different world," he says.
"My first day on the bus in the fourth grade I looked out the window and saw a swimming pool in someone's backyard. That was movie stuff to me. Now, I credit my ability to communicate with different types of people to that experience," he says.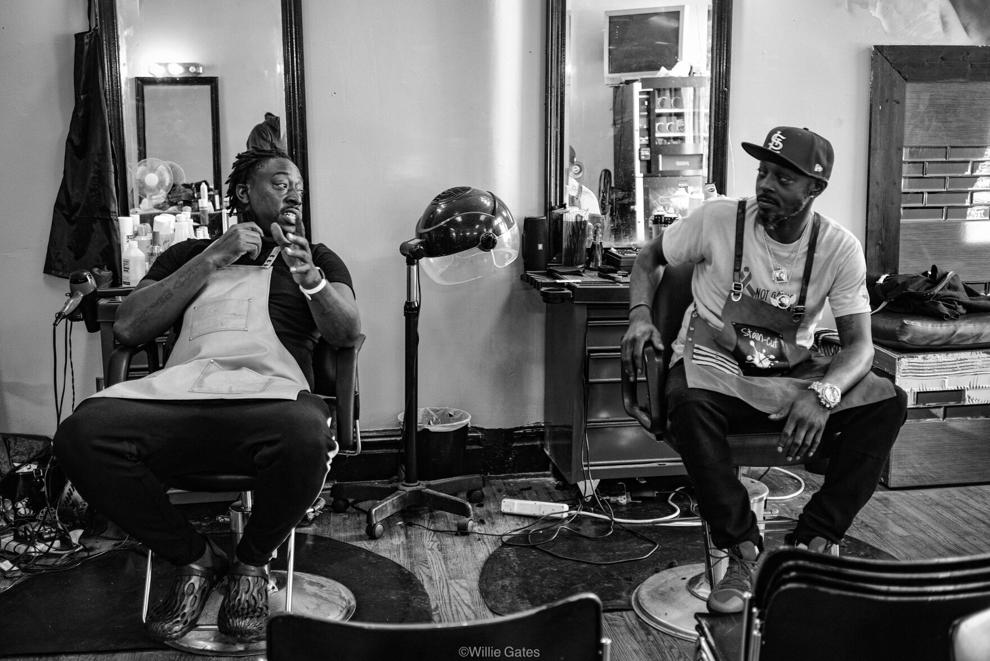 It takes respect to get respect • The barbershop is a recurring theme in his work. "I love the barbershop. The urban barbershop — for young boys and men, it's like a therapy where you can release yourself," he says. "Whatever you do outside of the barbershop, whatever your occupation, all that goes out the window. Everybody's equal. People starting to get a haircut, waiting, young boys and men — it's something that's always been a part of my life, and I still go once a week," he says.
His barbershop photos, humorous, poignant or fashion-focused resonate with visitors to the 31art gallery, which exhibits his work. "I'm passionate about what I do. When I think stuff is cool, or important, I'll take pictures because that's what I do."
The forest for the trees • Gates' intuitive sense of design and his eye for seeing things differently leads him to some unusual situations, as when he photographed his friend, model Corey Orange, in a sun-dappled verdant glade.
But it was no primeval forest. "It's in back of my apartment. I called my friend Corey Orange, the model, to do a shoot there when I found it," he says. When he posted the photos on Instagram, Terry Hinkle, another artist at 31art, told him about a show of figurative work at Stone Soup Gallery. Gates entered, and was accepted in the show.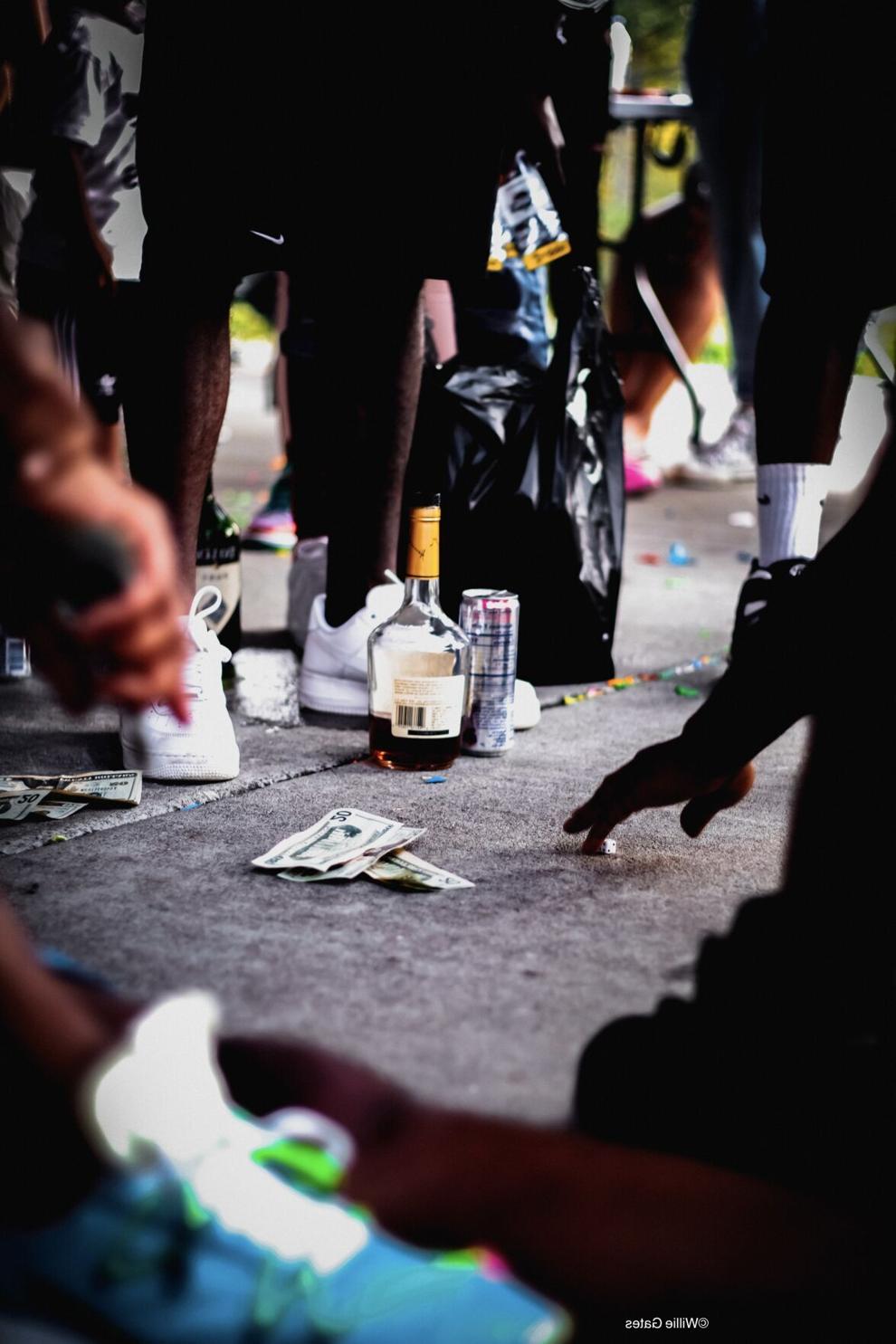 An eye for the unusual • His photo of a craps game in process marries liquor, symbols, songs and sneakers in a colorful shot . "It's got a Red Bull, and a bottle of Hennessy, and Nike Air Force Ones, which represent Nelly's smash hit Air Force Ones, and St. Louis," Gates says. "I named it Shoot Dubs." People who get all the references tell Gates they like how he put it all together.
In another turn about, Gates, who works in the restaurant industry as a server, doesn't take photos of food. "I like to show the action in the kitchen, the things people don't see," he says.
"I'm passionate about what I do. Recently, I've taken satisfaction in knowing people like my photos. I didn't expect people to respond, and it's been great," he says.
Artist • Willie James Gates
What he makes • Gates is a self-taught photographer and video artist whose work chronicles popular culture, events, music, festivals, life and happenings in St. Louis and East St. Louis. He is a self-described "content junkie" who posts his work on social media, choosing to showcase images and events that are important to him.
Where to buy • Gates sells his work at 31art gallery, as well as through Instagram @the_clownn_took_it/
How much • Unframed 11-inch by 14-inch prints of his work sell for $50 to $100. Framed prints are available for $150 to $250. Contact Gates for pricing on larger prints, and for video or photography work at events.
[ad_2]

Source link